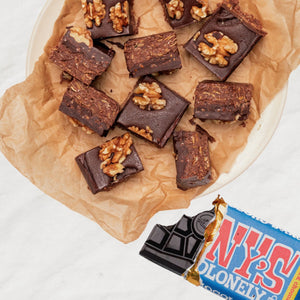 Two Raw Sisters: Oven-free Afghan Slice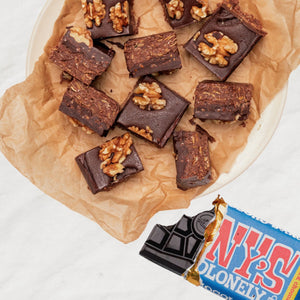 By The Two Raw Sisters

A delicious take on afghan cookies using whole, minimally processed ingredients. With no oven needed, this slice takes next to no time to make and it is a great treat for all eaters' lunchboxes. One to add to the 'make' list for sure.

Serves: 12
Time: 20 minutes

Afghan Base
1 1/2 cups rolled oats
3/4 cup dried coconut
1/2 cup sunflower seeds
1/2 cup cacao powder
4 tbsp maple syrup
5 tbsp water
2 tbsp coconut sugar
0.5 tsp sea salt
1 cup cornflakes
Chocolate Ganache
180g Tonys Chocolonely Dark Chocolate
2 tbsp peanut butter
1/4 cup walnuts
Method:
Add the rolled oats, coconut and sunflower seeds to a blender. Blend until you have a fine flour. Add all of the remaining ingredients, expect the cornflakes, and blend again until you have a cookie dough consistency
Place the afghan base into a bowl. Crush the cornflakes into the bowl and mix until the cornflakes are evenly distributed throughout the afghan mixture.
Line a loaf tin with baking paper and press the afghan base into the tin, using the back of a spoon to get a flat surface. Set aside.
For the chocolate ganache, melt the chocolate in the microwave or over a double boiler. Once melted add the peanut butter and mix until smooth and thick.
Pour the chocolate ganache over the afghan base and randomly place the walnut halves on top. Place in the freezer to set for 1 hour.
Once set, cut into squares and store in an airtight container in the fridge for up to 2 weeks.
If you're after more delicious go-to Two Raw Sisters recipes download the Two Raw Sisters App. 450+ sweet & savoury recipes, day plans & dinner plans starting with plants.

Free to download from the App Store & Google Play.