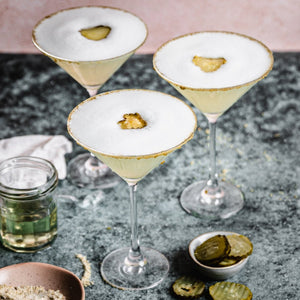 Pickle Sour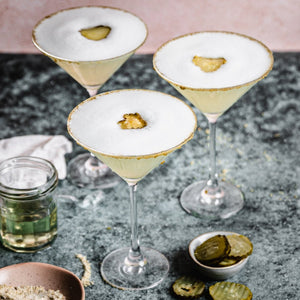 Say hello to the one and only "Pickle Sour" by the one and only Brooke Moore, the mastermind who snatched the crown at the Great NZ Toastie Takeover 2023! Brace yourself for an explosion of flavour as this mouth-watering masterpiece transforms pickles into the star of the show. Who says pickles are just for burgers? 
By Brooke Moore
Makes: 1 cocktail
Ingredients:
20ml pickle brine syrup
50ml gin (or for an alcohol free option add your favourite Seedlip expression)
10ml lemon juice
40ml tonic water 
30g egg white (approximately 1 egg white)
3-4 ice cubes

Dehydrated pickle slices, to serve (dehydrate at 65C for 48hrs)

Pickle salt, to serve 

100g salt
25g brown sugar
1 jar McClures' Bread & Butter Pickles, dehydrated (dehydrate at 65C for 48hrs)
2g celery salt
Method
To make the pickle brine syrup - combine pickle brine and syrup in a pot and cook over a high heat, until sugar is dissolved and a thin syrup consistency is achieved. Leave to cool.
To make the pickle salt - blend the dehydrated pickles 

(dehydrate at 65C for 48hrs)

in a high-speed blender to a powder consistency. Add remaining ingredients and mix thoroughly. Store in a sealed container.
Dip the rim of your glass into the pickle syrup, then into the pickle salt.
In a cocktail shaker, combine all ingredients and shake for 15 seconds. Pour over a strainer into the prepared glass. Garnish with a dehydrated pickle slice and serve immediately.