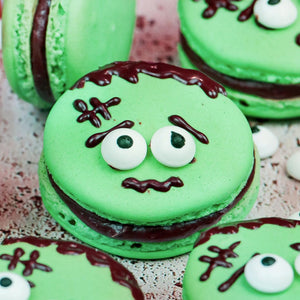 Frankenstein Macarons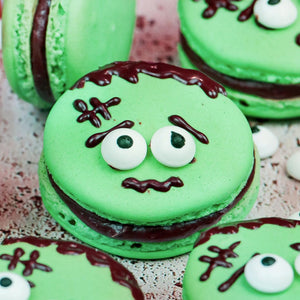 Looking for desserts to serve at your Halloween party or just to treat yourself? Check out this recipes for Frankenstein Macarons - all made with Tony's Fairtrade and B Corp certified chocolate!
Details:
Servings: 16
Prep Time: 20 min
Cook Time: 10 min
Total Time: 30 min
Ingredients:
For the Macarons:
1 1/4 cup Powdered Sugar
1 cup Almond Flour, superfine
1/2 tsp. Fine Sea Salt
3 large Egg Whites, room temperature
1/2 cup Fine Sugar, like caster sugar
1/2 tsp. Cream of Tartar
1/2 tsp. Vanilla Extract
3 drops Green Food Coloring
For the Chocolate Ganache Filling:
To Assemble 'Frankenstein':
Melted Tony's Chocolate
Candy Eyes
To Make the Macarons:

 

In a large bowl, mix the powdered sugar, superfine almond flour, and sat together. Working in small batches, sift the mixture through a fine mesh sieve into a separate bowl. Discard any lumps in the sieve afterwards. Set aside. 
In the bowl of stand mixer, beat the egg whites and cream of tartar until soft peaks. Add the caster sugar and vanilla extract to beat until stiff peaks. Fold in the green food colouring until your desired "Frankenstein" macaron colour. 
Add half of the almond flour mixture to the egg white bowl. Using a spatula, fold the mixture in a series of turns, rotating the bowl slightly as you turn. Once well-combined, add the remaining almond flour. Repeat with the series of turns. By the end, you should be able to 'draw' a figure 8 without the batter breaking. 
Transfer the mixture to a large pastry bag with a medium sized round top (such as, ateco #805). 
Place the macaron template on a sheet pan. Pipe a very small amount of the macaron mixture in each of the four corner, then place a piece of parchment paper on top.
Pipe out the batter inside the size of the circles drawn on the template, or about 3.8 cm in diameter. Repeat to fill remaining circles. Carefully but firmly bang the sheet pan against the counter 4-5 times to remove any air bubbles. 
Allow the macarons to sit out at room temperature for 40 minutes to 1 hour. 
Bake at 150°C for 10-15 minutes, or until risen and set on top. Keep a close eye starting at 10 minutes to ensure they do not brown. 
Let cool completely. 
We'd love to see your Tony's Chocolonely creations! Tag us on Instagram @cookandnelson.