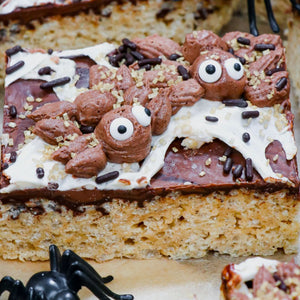 Trick-or-treat chocolate rice crispy frights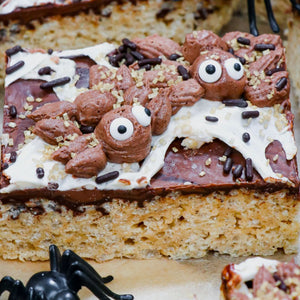 Get tangled in a web of flavour with these spine-tingling spidey chocolate rice crispy treats, the only creepy crawlers we're craving this Halloween season!
Servings: 20
Prep time: 20 minutes
Cook time: 10 minutes
Total time: 30 minutes
Ingredients:
Instructions:
To Make the Chocolate Rice Krispies: Line a 22 x 33 cm baking pan with parchment paper that overhangs "sleeves" for easy removal later. Set aside 1 cup marshmallows as reserve. 
In a large pot over medium high heat, add 12 tablespoons of butter to melt. Once melted, stir until the butter has browned, about 1-2 minutes. The butter should smell nutty and look like a toasty brown color.
Reduce heat to medium. Stir in the vanilla and salt.
Add the marshmallows (except the reserved 1 cup) to the large pot. Stir until the marshmallows have melted.
Remove 1 cup melted marshmallow for the spider webs later.
Add in the rice bubble. Stir until well combined. 
Add in the reserved 1 cup marshmallows and mix until just combined.
Transfer into the prepared baking pan and press into the pan with slightly wet fingers.
Reserve 1/3 cup of the melted dark chocolate for the chocolate buttercream.
Drizzle the remaining melted chocolates over the rice krispies. Lightly swirl together with a knife.
Place in the freezer for 10 minutes, until the chocolate is hardened.
To Make the Spider Webs: If needed, heat up the reserved 1 cup marshmallow fluff over low heat. Use your fingers to spread the marshmallows across the hardened chocolate to mimic "spider webs."
 To Make the Chocolate Spiders: Add the remaining 4 tbsp. butter and 1/3 cup chocolate to the bowl of a stand mixer. Beat until smooth, about 1-2 minutes. Add the powdered sugar, and 1 tablespoon heavy cream if frosting is too thick.
Add more powdered sugar if frosting is too thin. Pipe two dots to mimic a spider's head and body, then 4 legs on each side. Decorate the legs with the sprinkles and the head with the candy eyes.
Slice into individual rice crispies to be enjoyed!