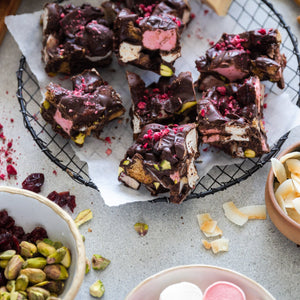 Rocky Road with Tony's Chocolonely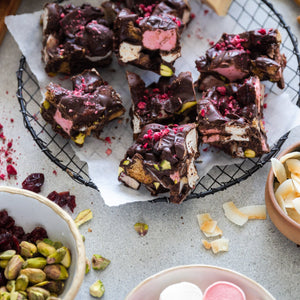 Recipe by Kelly Gibney
This delicious, indulgent jumble of all the most delicious things to eat is fun to make with kids. You can't mess it up! Use this recipe as a guide and add in your favourite things. Lovely to gift and share.
Ingredients:
160g marshmallows – halve if very large
8 ginger biscuits – roughly chopped
80g pistachios – roughly chopped
100g Tony's Chocolonely White Chocolate Raspberry Popping Candy – roughly chopped
½ cup dried cranberries
½ cup toasted coconut chips
To garnish: freeze-dried raspberries (optional)
Method:
Break the dark chocolate and milk chocolate into pieces and melt (together) in a double boiler. Stir until smooth.
Place all the other ingredients in a large bowl, pour over the melted chocolate and mix well.
Spoon into a slice tin lined with baking paper. Press down lightly on the top to push the slice together more.
Place in the fridge to harden.
Garnish with a sprinkle of freeze-dried raspberries if desired.
Slice into pieces. Store in an airtight container.
Share a picture of your Tony's Chocolonely creations by tagging us on Instagram @cookandnelson or Facebook @cookandnelsonnz.