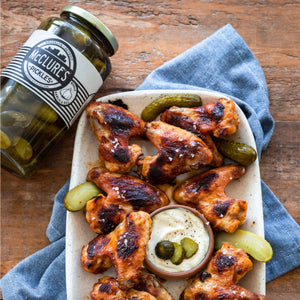 Dill and Garlic Pickle Brined Wings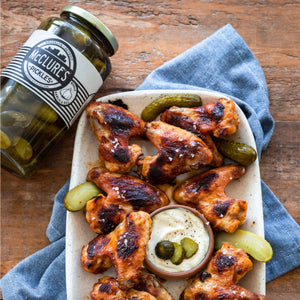 By Kelly Gibney
Brining chicken wings in leftover pickle brine gives the most incredible flavour and ensures moist and succulent chicken. You'll never make them any other way! Serve with creamy aioli and plenty of pickles on the side.
Serves 4-6 as a hearty snack
INGREDIENTS 
Wings
1.5kg free range chicken wings, tips trimmed

2 ½ cups McClure's garlic and dill pickle brine

1 cup water
Spice mix
½ teaspoon onion powder

½ teaspoon garlic powder

½ teaspoon smoked paprika

1 ½ teaspoons baking powder

¼ teaspoon salt

¼ teaspoon cracked black pepper
METHOD 
Place chicken wings in a deep bowl. Cover with the pickle brine and water.
Place in the fridge for 8-24 hours
Preheat oven to 200 degrees Celsius.
Drain chicken and pat dry with paper towels. Mix together all the dry ingredients and sprinkle over chicken wings. Toss until evenly coated.
Place on a lined baking tray. Bake for 35-45 minutes until well browned and cooked through.