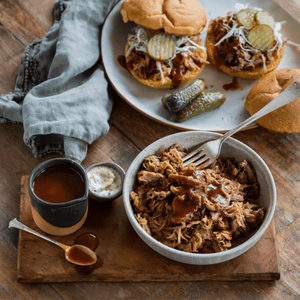 Lillie's Q Pulled Pork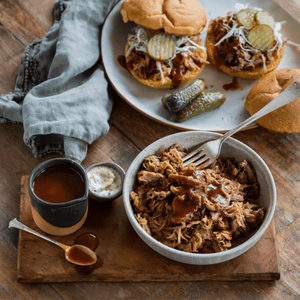 By Kelly Gibney
Serves 8
Perfectly cooked pulled pork is the ultimate crowd-pleasing dish. Here we've used a spice rub and then layers of Lillie's Q Carolina bbq sauce to lock in flavour from the very start of the slow cooking process. We love a tangy wholegrain mustard mayonnaise with the pork, served inside soft brioche buns. 
Ingredients:
2.2 – 2.5kg bone-in free range pork shoulder
1 teaspoon onion powder
1 teaspoon garlic powder
1 teaspoon smoked paprika
1 teaspoon ground coriander
½ teaspoon salt
1 tablespoon brown sugar
½ cup Lillie's Q Carolina for seasoning finished pork plus sauce for basting

 

3/4 cup water

 

3 tablespoons apple cider vinegar
Olive oil for drizzling
Mustard mayo
¾ cup good quality mayonnaise
1 rounded teaspoon wholegrain mustard
1 garlic clove, finely diced
1 tablespoon lemon juice
Sea salt and cracked pepper
To serve: Brioche buns, shredded cabbage or lettuce, McClure's Bread & Butter or Sweet & Spicy sliced pickles.
Method:
Mix together the dried spices, salt and sugar.

 

Pat the pork shoulder dry with paper towels. Drizzle over some olive oil and sprinkle with the spice mix. Rub really well all over the piece of meat and place in the fridge for up to 24 hours.

 

Brush the meat generously with some Lillie's Q Carolina sauce. Place in an oven-proof dish. Add the water and apple cider vinegar to the bottom of the dish.
Place in an oven that has been preheated to 200 degrees and cook uncovered for 30 minutes.
Reduce to 120 degrees, place a lid or tinfoil on to tightly cover and cook for 5 hours. Baste the meat with more Lillie's Q Carolina sauce at least once during this time.
Remove the lid/cover and cook for the last hour uncovered, basting with the liquid really well 3 times in that hour.
The meat should be incredibly tender by this stage. Remove the bone and use two forks to pull the meat apart.
Pour ½ cup of Lillie's Q Carolina sauce over the pulled meat while still warm. Stir through.
To serve:
Mix together the mayonnaise, mustard, garlic and lemon juice. Taste and season additionally with salt and cracked pepper as desired.
Serve the pulled pork warm in brioche buns with shredded cabbage, a generous dollop of mustard mayo and some sliced McClure's pickles.

 
Share a picture of your Lillie's Q creations by tagging us on Instagram @cookandnelson.

Enjoy!