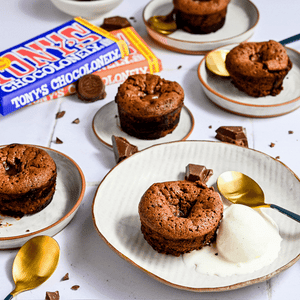 Tony's Chocoloney Chocolate Fondant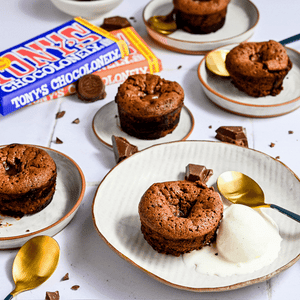 By Michelle Tsang (@PetiteSweetsNZ)Makes 6-8 fondants
Chocolate fondants are great desserts for entertaining, and these ones have a hidden surprise! Matching 
Tony's Chocolonely Dark Milk Chocolate Pretzel Toffee
for the fondant with a hidden piece of
Milk Chocolate Caramel Sea Salt
, this is one decadent dessert that's easily whipped up ahead of time.  
The key to a molten interior, is to have the mixture really cold before it goes into the oven. The high temperature will cook the outsides quickly, and the short cook time will leave the interior soft and liquid.
For the prettiest looking fondants, I use dariole moulds or small silicone muffin pans. To ensure the fondant cakes come out of the pans easily, butter the moulds and dust with cocoa generously.
Ingredients:
Method:
Heat oven to 200C/180C fan setting. Grease with butter 6-8 dariole moulds or a muffin tray well. Dust with cocoa powder, tipping out excess. Place on a baking tray.
Place chopped dark milk chocolate and butter in a heatproof bowl and set over a low heat; stir until full melted and smooth. Set aside.
Using an electric mixer, beat eggs / egg yolks and sugar together till thick and pale, about 3-4 minutes. Add flour and lightly mix in. Add melted chocolate mixture; stir to combine. 
Pour into prepared moulds and add a piece of milk chocolate caramel sea salt in the centre of each mould. Place in the fridge to cool for at least an hour or overnight. (Freezeable as individual portions at this stage - adjust cook time to 16 minutes).
Once adequately cooled, bake at 200C for 13 mins until the tops are set but the centre is still soft. Toothpick test should be wet.
Run a thin icing spatula around the edge of the mould/ pan to release; transfer fondants carefully onto serving plates. 
Serve warm with vanilla ice cream.