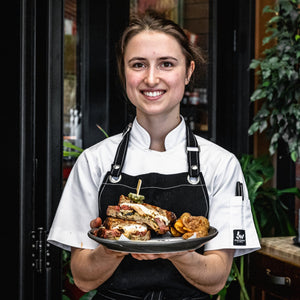 Cook & Nelson Conversations 07: Brooke Moore - Freeport with Cleaver & Co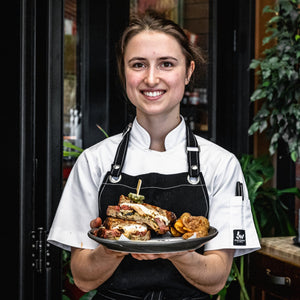 Brooke Moore took the 2023 Great NZ Toastie Takeover competition by storm with her delicious 'Surf, Turf, & Smoke, Monsieur!' creation. Months on from her win we catch up with the Freeport with Cleaver & Co chef to find out more about her hottest Mount Maunganui recs as well as what get's her going in and out of the kitchen. 
What gets you out of bed each morning?
The Papamoa sunshine! We're really lucky to get the morning sun beaming straight into our little flat. Feels like summer year-round.
Favourite date night haunt?
Because my partner and I are both chefs and hard-core foodies, our date nights aren't planned in advance and set in stone - they're generally spontaneous bookings with restaurants that have posted about something cool. If we're in the mount, without fail, we end up with a drink in hand at Rita's or Solera. In Papamoa, we love going to Lantern and walking around the back to finish with a drink at The Island.
Favourite Cook & Nelson product and why?
Aside from McClure's Sweet and Spicy Pickles, I absolutely love Good Sh*t Soda. They're incredibly refreshing after a rough day's work, and easy on the stomach!
What are you reading right now?
I'm not actively reading anything right now, aside from the odd page of 'Kitchen Confidential' by Anthony Bourdain. However, I took Albert Cho's new book, 'I Love My Stupid Life', with me to the hospital a couple of months ago and it kept me well entertained. The narrative is so relatable, and Cho is unashamedly himself, unafraid to address his past and present insecurities that so many of us battle with. I absolutely love the recipes thrown in there too - such comforting and straight-up-and-down food.
Listening to?
Everyone is surprised by my music taste - my favourite bands include Tool, Metallica, Stone Temple Pilots and Alice in Chains. However, we've just secured tickets to Sublime with Rome, so Sublime has been on repeat lately!
Favourite destination in NZ and why?
Queenstown is such an idyllic destination - it almost feels like you're in another country. The scenery is unbeatable, there are endless activities, and the food scene is fantastic.

Favourite holiday destination... anywhere in the world?
We went to Dubai in March this year and it blew my mind. It is such a forward-thinking place with incredible architecture, roads, scenery and dining. We dined at Ossiano, the 4th best restaurant in the UAE and the 86th Best Restaurant in the World at the time, complete with a wine match and a cocktail to start. It cost us NZD$1000 each (I panicked when we got the bill), but the experience was resoundingly worth it. When in Rome, right?
My ideal weekend is...
Every few weekends we go back to our hometown, Taupo. It's so nice to catch up with family and see what's happening around the place. I always look forward to these times. But if money grew on trees, my ideal weekend would include an extensive food and drink crawl all around the best spots Wellington, with a little shopping in between and a nice hotel at the end (dreams are free, right?)
What is your guilty foodie pleasure?
Aside from good brisket - and I mean GOOD, lovingly smoked brisket - I've got a huge love for fried chicken! My partner and I have actually been working on some banging fried chicken in our tiny kitchen at home, and we actually plan to sell our dry mixes (launching soon - keep an eye out for Moore Chicken!) If we're ever out having a drink and there's fried chicken on the menu, we'll order it every time (for research purposes, of course).
If you weren't a chef, what would you do/be?
I was always a super academic student and had actually been awarded a prestigious university scholarship. I began studying a Bachelor of Communications (Journalism) online full-time, while also working at a cafe full-time (recipe for disaster). Something had to give, and I decided to let go of the study so I could take on more hours and save some more coin, to invest in whatever entrepreneurial thing I would pursue in the future. I still have a very present love for writing (especially with food), so if I weren't a chef I'd be doing that!
What's your favourite kitchen hack?
Perhaps I've been living under a rock because apparently heaps of people do this. One day at work we had pizzas for staff meal. The pizza chef had cut the pizzas into 8 slices with a pizza wheel, but because we all wanted to try a sample of each, it was absolutely necessary to cut them smaller. I went to grab a knife, but our kitchen hand picked up a pair of scissors and started cutting the slices in half with them. It was revolutionary. 
One ingredient that you can't live without?
Maggi Seasoning Sauce is pure magic. It makes anything taste that much better. We add it to omelettes, fried rice, sauces, stir-frys... everything. Its profile is that of a sweet soy sauce, with a strong umami twang.
Where do you draw inspiration from?
I draw so much of my inspiration, both personally and professionally, from food. Whether it be watching a food show, trying out some cool new bar, or bouncing ideas back and forth with my partner, I gain so much passion and motivation from food. 
It's so important as a chef to taste what other chefs are creating and to become immersed in the experience of someone else's restaurant. It forces you to think and to see where you can apply elements you find enlightening to your own food or brand.
Current go-to recipe?
My go-to to use up produce and to add some vibrance to whatever you're doing is simply to pickle things. I love pickling vegetables and fruits like mushrooms, chillis, carrots, and berries, for example, but you can also pickle meats, fish and all sorts (a classic example would be corned beef or the pickle-brined lamb pastrami from my toastie). Simply bring equal parts of sugar, water and vinegar to the heat until the sugar is dissolved. Pour over your vegetables so they slightly cook in the liquid, but leave to cool first if pickling delicate fruits and meats. You can also just reuse pickle juice like I did with my lamb pastrami!
Favourite dish
One of the best things I've ever eaten has to be the Ban Xeo I devoured while in Vietnam. It was so fresh and vibrant - you can't beat those flavours! Another favourite is the Japanese Samosa I had in Old Delhi - odd name, as it has nothing to do with Japan - but it's basically an inside-out samosa. They serve the rich chickpea curry on a plate, alongside the crispiest pastry to scoop up the goods.
Favourite social handle for foodie inspo?
If I'm ever in Auckland and looking for some guidance on where to go, I usually have a look at where Albert Cho @eatlitfood has been dining and what he has to say. His reviews are authentic and honest, so I can generally make informed judgements on whether I should spend my money somewhere or not. But I never snob the places that've gotten a bad review. Chefs are human, and humans make mistakes. It's always a good idea to try a restaurant or cafe for yourself before you decide it isn't worth visiting! Otherwise, I just like to look at the pages of restaurants I follow, and the pages of restaurants associated with them. I find that exploring this way can lead you to discover places you wouldn't have otherwise found!