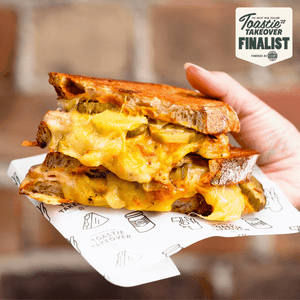 Eateries One Step Closer To Top Toastie Title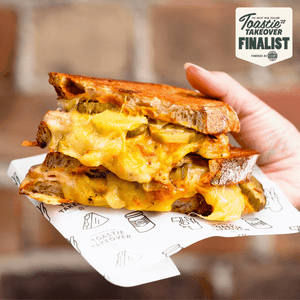 Great New Zealand Toastie Takeover finalists selected
The judges in this year's Great NZ Toastie Takeover have a difficult decision ahead as 13 outstanding finalists are revealed in the battle for the country's top toasted sandwich.

With a whopping 100,000 toasties served up since the first round of judging began on April 13, the competition's more than 180 entries have now been whittled down to 13 finalists across six regions.

Those finalists hail from Auckland, Ngatea, Okere Falls (Rotorua), Ohakune, Havelock North, Palmerston North, Greytown, Nelson, Christchurch, Queenstown, Twizel, and Dunedin, and encompass local eateries, rural roadside cafes, breweries, a food truck, a fish farm, a burger bar, an artisan food store, and a newly opened toasted sandwich bar.

Competition criteria required sandwiches to be toasted between two slices of bread and – like all respectable toasties – able to be eaten by hand. The toasted sandwiches also needed to contain cheese (or a vegan substitute) and McClure's Pickles, with all the other ingredients left entirely to the entrants' imaginations.

Head judge Kerry Tyack says those imaginations ran wild this year, presenting his team of 30-plus judges with an extremely tough task in choosing the finalists.

"It feels like this year, amidst all the Covid chaos, the toastie has reached the lofty heights of the great Kiwi pie, the whitebait fritter, the perfect pav, and the cheese roll, and can now be accorded the status of national treasure," he says.

"The judging team assessed many, many standouts in this year's entries. Chefs tackling the toastie have clearly got the hang of making sure it is well toasted, easy to eat - even on the run, and has the right balance of complementary ingredients to keep customers coming back time and again.

A variety of smoked and slow-cooked meats can be found among the ingredients in this year's finalists, including pork, brisket, lamb shoulder, and salmon. Delicious cheese blends also feature, while several finalists have made inventive use of the McClure's Pickles range, including using pickle brine and crispy fried pickles. Some finalists also chose to extend the toastie experience by including sides and tempting dippers, like gravy and tomato soup.

And the finalists are:

AUCKLAND
Archie Café: Pepper Pig: Hot pork, double cheese blend, McClure's Sweet & Spicy Pickles, mustard and sriracha on toasted sourdough.


Wynyard Pavilion: Low 'n Slow: Low & slow smoked wagyu brisket, Massimo's mozzarella, McClure's Sweet & Spicy Pickles, truffle aioli and Old Yella habanero mustard.
WAIKATO / BAY OF PLENTY / COROMANDEL / ROTORUA
The Public Office (Ngatea, Coromandel): The Smoky Pork & Pickle: Cider braised pork, smoky wood sauce, melted gouda and McClure's Sweet & Spicy Pickles, topped with crispy fried pickles.


Okere Falls Store (Rotorua): Get Smoked, Pickled + Toasted: House smoked, beer brined brisket, McClure's Sweet & Spicy Pickles, hop salted mozzarella, smoked cheddar, watercress and horseradish on Bread Asylum X Lumberjack Brewing spent grain sourdough with pickle brine sour cream and a beer gravy dipping bowl.
CENTRAL NORTH ISLAND
Toastie Ohakune (Ohakune): Owen's Missus, Who Takes No SCHMACK: Corned beef, pickled carrots, Pepper & Me 'Schmack Sauce,' McClure's Bread & Butter Pickles and four cheeses.
Best Burgers (Havelock North): A Cluckin Patty Melt: Chicken fried Best Burgers patty, Swiss cheese, bacon & onion Jam, McClure's Bread & Butter Pickles, Best Burgers Special Sauce on house potato bread.
WELLINGTON
Brew Union (Palmerston North): Pork & Rye: Pickled pork, jalapeno, date and smoked gouda cheese sauce, American mustard mayo and McClure's Sweet & Spicy Pickles on rye bread.


The Offering (Greytown): Beef Greytown (Our take on a classic): Four cheese blend with Parkvale mushrooms, onion and baby spinach, thyme and parsley to form a spread, French mustard, pulled hot smoked rump beef with a chipotle BBQ Sauce, McClure's Bread & Butter Pickles, white cheese sauce, all nestled between toasted marble rye bread.
UPPER SOUTH ISLAND
Little Nessie Café (Nelson): Toasted Reuben: Pastrami, Swiss cheese, McClure's Sweet & Spicy Pickles, sauerkraut, secret sauce.


BEERS (Christchurch): Lamb Margera: Smoked lamb shoulder, Swiss cheese, McClure's Sweet & Spicy Pickles, kimchi and onion rings on sourdough.
LOWER SOUTH ISLAND (three finalists, tie in second place)
Morning Magpie (Dunedin): Tickle My Pickle: Organic sourdough, McClure's Sweet & Spicy Pickles with house pickles, a big slab of Evansdale cheese, served with a dipper of tomato soup. (Also a finalist in 2021)


High Country Salmon (Twizel): Loco Mexicano: Cold smoked salmon, McClure's Sweet & Spicy Pickles, corn salsa, avocado, cheese, spinach, cornflakes and chilli mayo, in toasted rye sourdough. Served with fries.


Johnny Crema (Food Truck, Frankton, Queenstown): Reubie Roll: Corned beef, horseradish béchamel, McClure's Sweet & Spicy Pickles, all rolled up on a divine slice of European Bakery jumbo loaf, served with crisps.
Due to such high scores this year, competition organisers Cook & Nelson are also giving a special nod to other venues and toasties which scored 90 points or higher (out of a possible 100). As in previous years, each toasted sandwich is scored using set criteria. This includes presentation, effectiveness of preparation technique, eatability, taste, provenance, and innovation.

Those deserving of a special mention this year are:
Auckland: Burgernaut, Cazador, Churley's Brewpub & Eatery, Rampant Coffee, Union Post
Hamilton / Bay of Plenty: Texas Pete (Rototuna, Hamilton), Plan Bee (Waihi)
Central: Creel Tackle House & Café (Turangi), Fork & Noise (Mahora)
Wellington Region: 10 O'Clock Bakery Café (Masterton), Artisan at Bolton Hotel, Cable Top Eatery, Café Polo, Fidel's Cafe
Lower South Island: Fine Lion (Ashburton)
Finalist judging commences in July with the competition's toast-master royale who will now visit all 13 finalists to sample their entries before liaising with Tyack and McClure's Pickles co-founder Joe McClure to determine New Zealand's top toasted sandwich. McClure had planned to be in New Zealand for this round of judging but plans have again, been thwarted by Covid.

"I'm gutted to miss another great competition, but will be involved from home base in Detroit. The toasties all sound epic and we're immensely grateful that Kiwis are as supportive as they've ever been when it comes to this competition," he says.

"Hopefully I make it back next year."

Each finalist will now receive a case of McClure's Pickles and dine-in vouchers to be given away via social media this month. The competition's supreme winner will be announced on July 27.