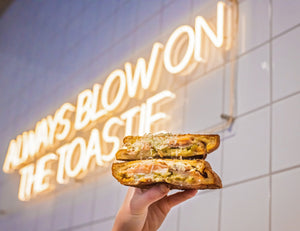 Finalists Revealed in Hunt For NZ's Top Toastie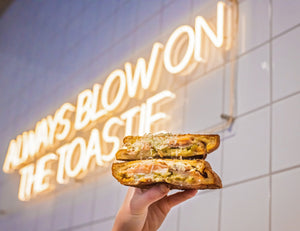 The 12 finalists battling for bragging rights in this year's Great New Zealand Toastie Takeover have been revealed – and they show the country has well and truly upped its toasted sandwich game.
The finalists hail from Auckland (three), Tairua, Mount Maunganui, Hastings, Clareville, Wellington, Picton, Blenheim and Dunedin (two), and have been chosen from a pool of more than 120 delicious entries nationwide. Finalist eateries include an historic pub, brewery, restaurants, burger bar, bakery, food trucks and even a boutique hotel. Last year's Supreme Winner from Dunedin's Hungry Hobos is in the running for the title once again with their tantalising Sweet & Spicy Pulled Carrot toastie - but the competition is tough with a range of other carefully curated sandwiches also in the mix.
Competition criteria required sandwiches to be toasted between two slices of bread and – like all respectable toasties – able to be eaten by hand. The toasties also needed to contain cheese and McClure's Pickles, with all the other ingredients left entirely to the entrants' imaginations – and imaginations they certainly had with vegetarian and vegan finalist entries in the mix and a variety of mouth-watering protein and flavour combinations. 
And the finalists are:  

AUCKLAND / NORTHLAND
Churly's Brew Pub (Mt Eden): Southern Swine - Smoked ham hock rillette, house made pimento cheese, McClure's Sweet & Spicy Pickles, garlic aioli, zesty ranch dressing. Served with fries.
The Daily Goods (Pukekohe): The Smoky Loaf - Bacon wrapped meatloaf, shaved and toasted with McClure's pickles, three cheeses and smoked garlic mayo on sourdough.
The Occidental (Auckland CBD): "BRT" Beef Rendang Toastie - Indonesian style rendang, Emmental cheese, McClure's Sweet & Spicy Pickles, served on toasted brioche with prawn crackers.

WAIKATO / BAY OF PLENTY / COROMANDEL / ROTORUA
Johnny's Tairua (Tairua): Tairua Time - 100 grams NZ Wagyu beef, McClure's Sweet & Spicy pickles, caramelised red onion, Swiss gruyere cheese, house-made Johnny mac sauce, Old Yella Habanero mustard on brioche bread.
Fire Restaurant (Mount Maunganui): White as Snow - Slow roasted, korma spiced merino lamb shoulder, McClure's Spicy Pickle Spears, American cheese, curry leaf, kasoori, and spiced buffalo curd.

CENTRAL NORTH ISLAND
Black Betty BBQ (Hastings): The Cornstar - Betty's Jalapeño Cornbread toast with 8-hour smoked black Angus brisket, McClure's Pickles, caramelised onion and cheddar sauce. *From 24 July moving to premises and opening Black Betty BBQ at 408 Warren Street Hastings.

WELLINGTON REGION
The Clareville Bakery (Clareville): Good-bye, Pork Pie! Toastie Takeover! Oh My! - Local free range pulled pork, McClure's Sweet & Spicy pickles, Swiss cheese, hoisin special sauce, and house made kimchi sandwiched between two slices of locally grown durum wheat, sesame and McClure's Pickle sourdough bread.
Wilson Barbecue (Wellington): The Spicy Smash - 100g brisket smash patty, blue cheese, sliced jalapeños, caramelised onion, McClure's Sweet & Spicy Pickles, mayo and American cheese sandwiched between two perfectly golden slices of German sourdough.

UPPER SOUTH ISLAND
Mollies Bar and Eatery (Hotel d'Urville, Blenheim): Mo Jo Pork Cuban with a Twist! - Slow roasted pork belly, provolone, chimichurri, American mustard, McClure's Pickles with apple chilli gel on toasted sourdough with kumara crisps.
Toastie Picton (Picton): Pete from Picton - Marlborough salmon, Pete's legendary cream cheese flavoured with lemon, dill & capers, McClure's Pickles, parmesan garnish. 

LOWER SOUTH ISLAND 
Hungry Hobos (Dunedin): Sweet & Spicy Pulled Carrot - Slow-cooked pulled carrots in peanut butter BBQ sauce, layered with aged cheddar and McClure's Sweet & Spicy pickles, grilled in herb buttered ciabatta. (Vege).
Morning Magpie (Dunedin): Miso Mushroom - Miso mayo, house walnut pesto, pepper rocket, miso portobello mushrooms, house kimchi and McClure's Sweet & Spicy Pickles on pan fried organic sourdough. (Vegan).

Each finalist will now receive a case of McClure's Pickles and dine-in vouchers which will be given away via social media this month. 
More than 60,000 toasties have been served up since this year's competition began in mid-May, with 30-plus judges scoring the 120 entries. Head judge Kerry Tyack says the standard of competition this year has been top notch. 
"Just when we thought our enthusiasm for toastie innovation may be slowing, along comes some of the finest toasties we have had since the Takeover began," he says.
"Not only were this year's entries a step up in the creativity stakes, it's clear the critique from previous years has been taken on board. Entrants delivered toasties that were made better, held their shape, and had better balance. There were fewer battles between meat and cheese, a more even spread of ingredients, and less jarring of flavours competing for attention.
"These toasties were the result of a more thoughtful, more considered approach, and better cooking. And, damn, they tasted good."
The competition's toast-master royale will now visit all 12 finalists to sample their entries before liaising with Tyack and McClure's Pickles co-founder Joe McClure to determine New Zealand's top toasted sandwich. The creations will again be judged on presentation, effectiveness of preparation technique, eatability, taste, innovation, and originality. 
The supreme winner of the Great New Zealand Toastie Takeover will be announced on Friday July 30 and will walk away with a year's worth of pickles, more dine-in vouchers, a toastie trophy, and the well-deserved reputation for the best toasted sandwich in the country.