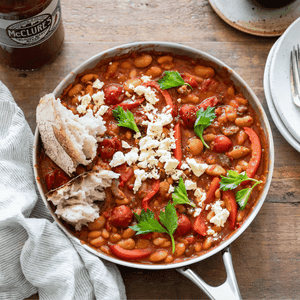 Bloody Mary Beans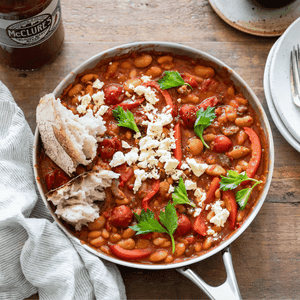 By Kelly Gibney
Serves 4

All the wonderful flavour of the classic brunch drink in a fresh and zingy bean dish. Serve with generous chunks of sourdough, baby celery leaves and a scattering of creamy feta.
Ingredients:
1 onion, diced
1 stem celery, thinly sliced
2 large garlic cloves, diced
1 red capsicum, core removed and sliced
1 400g tin cherry tomatoes
1 400g tin cannellini beans
1 400g tin butter beans
Olive oil for sautéing
Sea salt and cracked black pepper
To serve: Baby celery leaves, crumbled feta, toasted sourdough
Method:
Heat a generous glug of oil in a sauté pan over a medium heat.
Add the onion and celery and cook for 10 minutes until tender and translucent (a little browning is good).
Add the garlic and capsicum and cook for a few more minutes.
Add the McClure's Bloody Mary Mix, the tinned cherry tomatoes and the beans.
Bring to a boil and then simmer for 15-20 minutes until the sauce has thickened.
Season to taste.
Serve garnished with the small delicate leaves from the celery and sourdough.
We'd love to see your McClure's Bloody Mary creations! Tag us on Instagram @cookandnelson or Facebook @cookandnelsonnz.