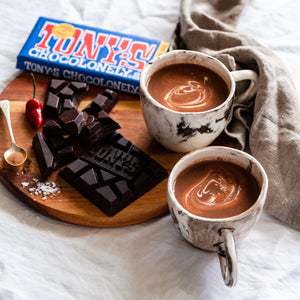 Vegan Mexican-inspired Hot Chocolate with Tony's Chocolonely Dark Chocolate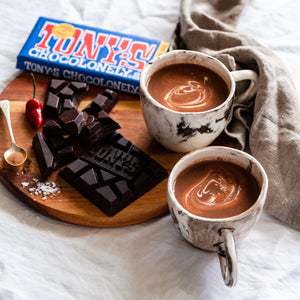 By Kelly Gibney

Serves 2 generously

This decadent recipe uses real chocolate and lovely spices to create the ultimate cosy treat (with attitude!). Don't be nervous of the chilli and cayenne pepper. It provides a subtle little kick that is the perfect partner for the richness of Tony's Chocolonely dark chocolate.
INGREDIENTS:
3 cups plant based milk (we favour a 50/50 blend of coconut and almond milk)
½ teaspoon ground cinnamon
Pinch chilli powder
Pinch cayenne pepper (optional)
Pinch nutmeg
Pinch smoked paprika
Pinch salt
METHOD:
Chop the chocolate as finely as possible. Set aside.
Place the milk and spices in a small saucepan. Heat slowly (this allows the spices to infuse) until almost boiling. Remove from the heat and add the chocolate, whisking briskly to ensure a smooth result.
Taste and add additional sugar if needed. Serve immediately topped with a swirl of coconut cream (if desired).
Leftover hot chocolate can be stored in an airtight jar or bottle in the fridge for up to a week. Gently reheat (and whisk well) in a small saucepan over a medium heat.